66,431 Miles on
Arnold MO USA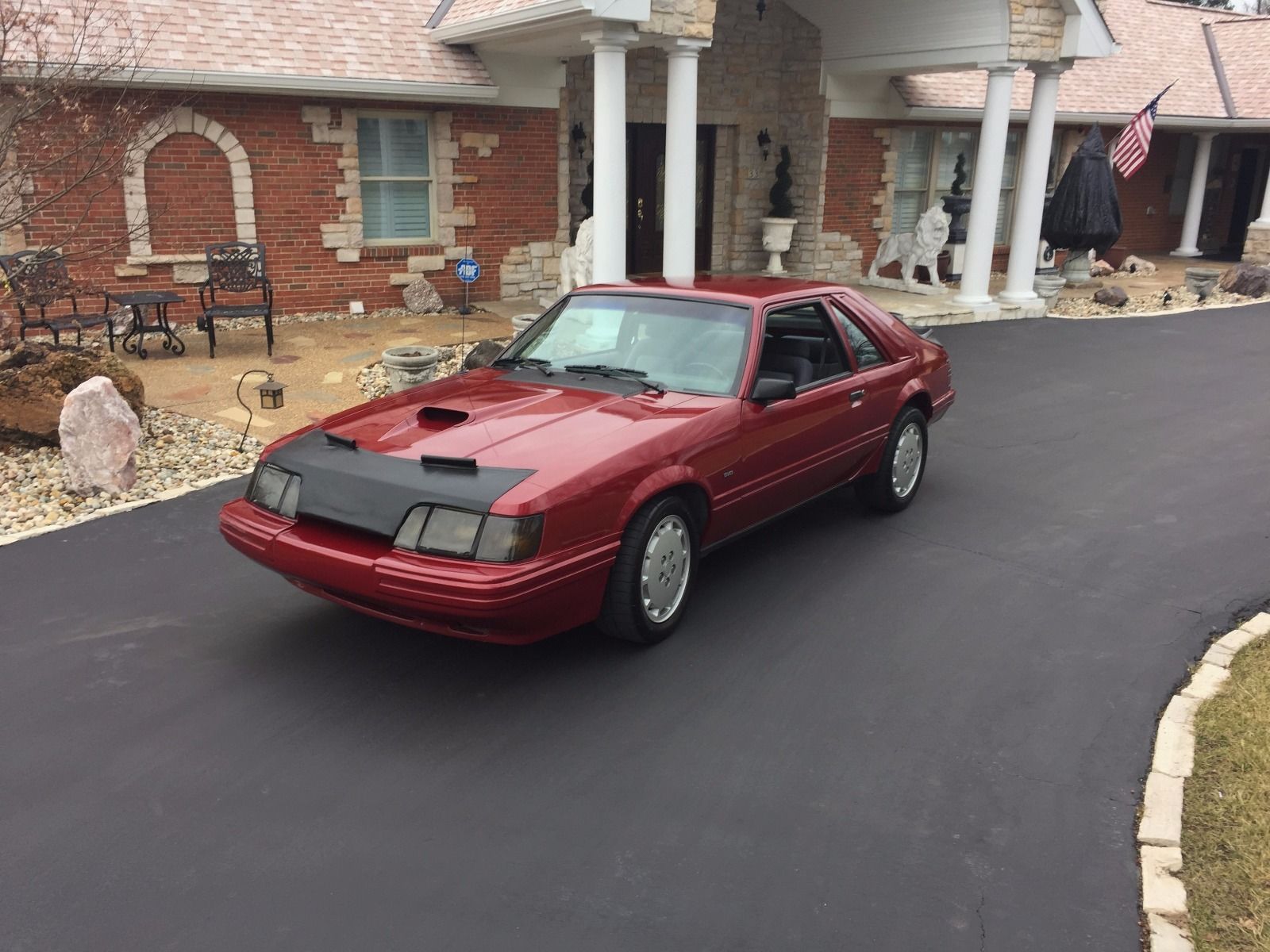 Found on eBay. Text from ad:
"This is my step dads beautiful 1986 Mustang SVO Turbo with 66K original miles. He passed away about 2 years ago and has a small collection of cars that I will be selling for my mom as of course she doesnt need them. He worked for Ford in Dearborn, MI for 38 years and loved the mustangs. He took very good care of each and everyone of them and you will love this car its super fun to drive.

The car is Canyon Red with Gray interior, premium sound system, Ice cold a/c. power windows, power locks, tilt wheel great heat.

This car runs and drives perfect !!! The interior is in mint condition, and even has the new car smell inside. (Never smoked in," not even once")...no rips, no tears, no stains, NOTHING. All the gauges , lights, horn, stereo, map light, fog lights everything works perfect. The instrument cluster lights are still super bright red, It really feels like your driving a brand new 1986 SVO down the road !! Its a trip)

MOTOR: Just in the last year we did new plugs, new wires, new cap, new rotor, new , new gates timing belt and tensioner, flushed and fill radiator, new tranny fluid, new rear end gear oil ect... All maintenance is done and the car is ready to go. Even though is only has 66K original miles I still wanted to do all fluids evt...... and make sure is ready for new owner to enjoy.

These cars like I said above are so fun to drive and has a cool body style and they were fast for 1986 but not so much for todays world, so he had a little work done and the car now puts out around 315HP and 334tq she moves out !!! and is a blast to drive. The car is now pushing around 19psi instead stock 13psi and is still very, very reliable. It was all done by a professional older ford guy tech my( dads buddy) who knows these cars inside and out.

The outside and under car: First off ,,,,,there is no rust anywhere on or under this car. The paint still shine's very nice, re-paint in 2007, not the best painter in the world but still very nice. The headlights and fog lights are crystal clear, tail lights still look brand new, the double SVO wing is still nice (not faded) the rims still look brand new (no curb rash) tires are brand new, still has orig exhaust. Im telling you right now I would trust this car to hop in it and drive across country with no problems at all !!!

You can fly in from anywhere and drive this car home !! The first person that actually comes to see this car is person I believe will buy it on the spot so the I'm taking calls in order its only fair. The first serious caller or bidder with cash will get the car. I priced it 5,000 under NADA , so it should go pretty quick. If you have a zero rating you must call before you bid or it will be cancelled."