91,000 Miles on
New Paltz NY USA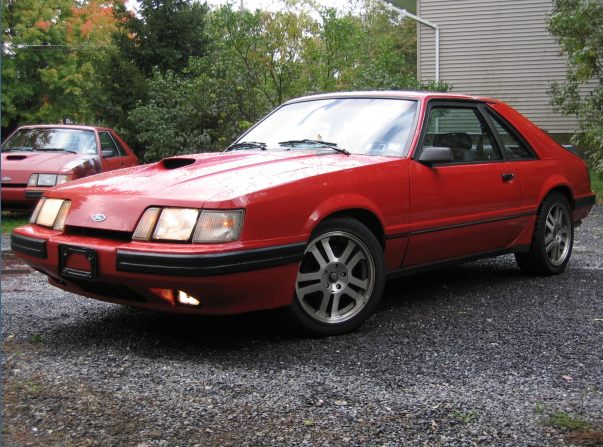 Of the three years Ford sold the Mustang SVO, the 1985.5 is most rare by numbers and by options. The car up for
auction was bulit on July 25th 1985 and is one of 223 with the Jalapeño Red Exterior and ray cloth interior. The
sunroof was not part of the options included to derive this number making this car more rare than the numbers
show.
Bid starts at $1000 and there is no reserve.
Aftermarket Parts:
65mm Throttle body and Forced4 Motorsports Adapter Kit
Thunderbird Intercooler
New stainless dual exhaust
New T3/T4 Hybrid turbo (in box) - stock turbo has a bad rear seal
Strut Tower Brace
VIN: 1FABP28T0FF240188 | Get the Vehicle History Report
Inspection: Order an independent inspection
Warranty: Vehicle does NOT have an existing warranty
Vehicle title: Other (specify in description)
Condition: Used
For sale by: Private seller
Features
Body type: Hatchback Engine: 4 Cylinder Exterior color: Red
Transmission: Manual Fuel type: Gasoline Interior color: Gray
Disability equipped: No
Options
Sunroof CD player
Power Options
Air conditioning Power locks Power windowsCar dyno:
Stock untuned: 149 RWHP 220 TQ
Modded and untuned 181 RWHP 280 TQ
Car is in very good shape. Could use some paint TLC on the trim parts and a good buffing on the body. There are a
few surface spots of rust (tiny bubbles under the paint. Rust in only bad in one area that goes through the metal
but is easily reparable. All the exterior lights are intact and in excellent shape.
Interior is in good shape as well. The driver seat bolster has the usual wear seen on original daily driver SVOs.
Car was formally owned by and featured in MM&FF. The car was featured once in 2006 and once in 2007 for a two
part series on getting cheep power with bolt ons.
The car will be sold with the 2005 polished aluminum wheels and brand new tires. Bullits are not available.