163,000 Miles on
Owned by Eddie Beverly in Harrisburg NC USA 28075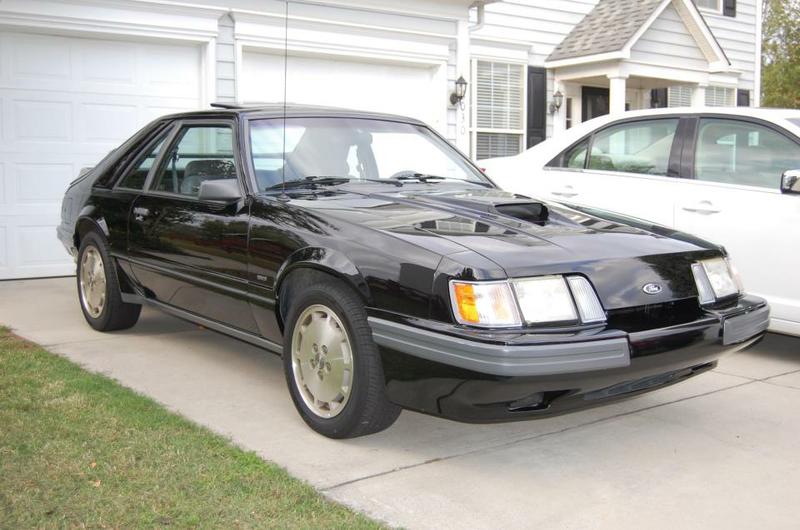 I am the original owner of this 1986 SVO. I drove it off the showroom floor from Young Ford in Charlotte. This car was a daily driver for about the first 10 years. Even after the SVO was replaced as my daily driver it was still driven 2 – 3K per year and sat covered in my garage during all that time. Needing new paint, some interior work and engine rebuild I started the process of restoration in 2009. BTW, this car has never been in any kind of accident.
Paint was done in 2009 back to original black and charcoal grey. Complete engine rebuild finished about 3,500 miles ago in 2012. Some of the engine mods include Boport racing cam, custom diamond pistons, manual boost controller, ported and polished head and manifold, larger valves, cold air intake, no cat, Dynomax super turbo mufflers, adjustable fuel pressure regulator, etc …
Still doing interior work but it's in fairly good shape. Did a few pulls on the dyno after a 500 mile break in with RWHP at 248 and torque at 284. That was at 17 PSI of boost on 93 pump gas. Plenty of room to go up and I have tweaked the car more since those numbers were obtained. My biggest problem now is traction. Was thinking I wanted to go megasquirt and larger injectors but seeing how I have trouble keeping the tires hooked to the road in 1st through 2nd gears it seems rather pointless. What a fun car to drive and I have enjoyed it now for over 26 years.